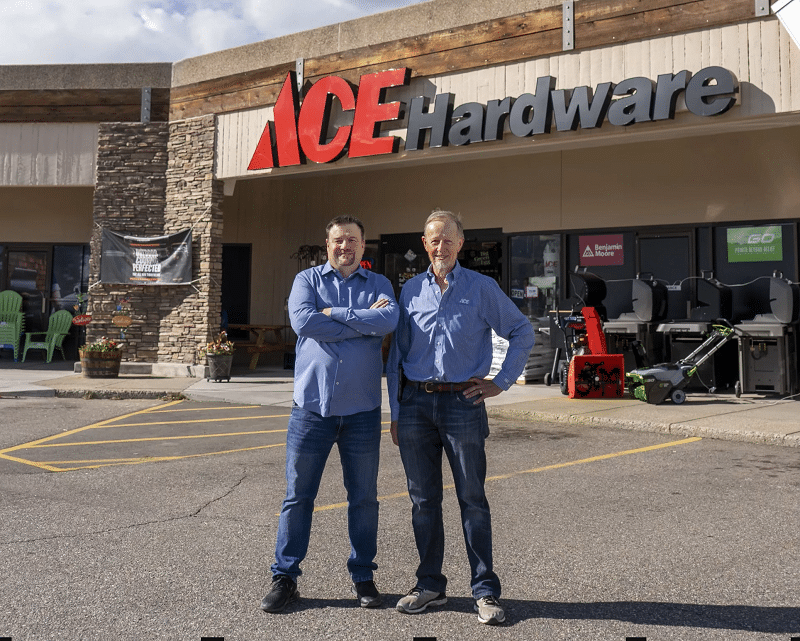 BILL & ERIN MOORE: The Family Tradition Continues
Moore Lumber & Hardware is a family-owned business that has been serving the community for generations. Meet Bill and Erin Moore, the father and son duo behind this successful enterprise, where customer service and community relationships are held in the highest regard.
Our Story
Since its humble beginnings decades ago, Moore Lumber & Hardware has remained committed to a simple yet powerful ethos: providing the best customer service possible. Passed down through generations, this commitment to excellence now rests firmly in the hands of Bill and Erin Moore and the team members at the company.
A Legacy of Customer Service
"Our customers are our friends and neighbors," says Bill Moore, the proud owner of Moore Lumber & Hardware. This local hardware store stands apart from the big chains by fostering a warm and welcoming atmosphere, where customers feel valued and appreciated. Bill and his team make a point to know most customers by name, creating a sense of familiarity and trust that sets the store apart.
Recognized for Excellence
The dedication to exceptional service has not gone unnoticed. Moore Lumber & Hardware has been recognized with numerous awards, a testament to their commitment to going the extra mile for their customers. Bill Moore humbly acknowledges the accolades, stating, "We strive to provide the highest customer service, and it is an honor to be recognized by our customers with this notable award. We look forward to sharing this award with those who ranked us so high."
Personalized Assistance for Home Improvement Projects
Home improvement projects can be daunting, but the knowledgeable team at Moore Lumber & Hardware is always ready to assist. "Our goal is to provide helpful and knowledgeable service to every person who walks through our doors," emphasizes Erin Moore. Whether you're a seasoned DIY enthusiast or a first-time fixer-upper, you can count on the Moore family and their staff to offer valuable insights and expert guidance.
A Strong Sense of Community
The Moore family takes pride in being deeply ingrained in the local community. They understand the unique needs and challenges that their neighbors face when it comes to home improvement. Beyond providing top-notch products and services, Bill and Erin Moore actively support community events and initiatives, giving back to the people who have been the backbone of their success.
Looking Ahead
As the family tradition continues, Bill and Erin Moore are committed to upholding the values that have made Moore Lumber & Hardware a cornerstone of the community. They embrace innovation and stay up-to-date with the latest trends in the industry, ensuring that their customers always have access to the best resources and solutions.
Join Us at Moore Lumber & Hardware
Whether you need a piece of advice, a helping hand, or the perfect tool for your project, Moore Lumber & Hardware is here for you. Visit our stores and experience the difference that family-owned and operated businesses bring to their communities.
"We can't wait to welcome you to our extended family!"